Name: San Luis Obispo Coastal Cruise  (ACP Brevet / Route# 1133)
Click to Register

Registered Riders List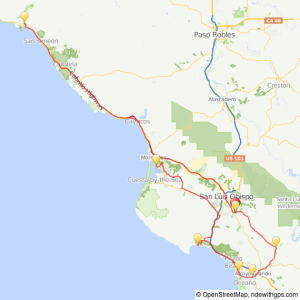 Ride Start: Saturday, Jan 13 at 0600
Ride End:  Jan 13 at  at 1930
Time Limit: 13.5 hours
Worker Ride:  none
Important Documents:   ridewithgps      Cuesheet:  PDF XLSX
Cost: $20.00
Registration:   closes Jan 11 at midnight
Start Location:   French Park, San Luis Obispo
Description:   Brevet stays along the coast to get away from the cold.
Begin in SLO at the RBA's house.  Ample parking alongside French Park.  Head north out of SLO on Hwy 1, and enjoy the ride to Hearst Castle in San Simeon.  Probably see zebras in the fields below the castle. Priceless ocean views.  Return through almost all the beach towns in SLO County: San Simeon, Cambria, Cayucos, and Morro Bay on State Park Road which has finally been repaved.  Then pass over lovely Turri Rd, and skirt SLO to continue south to pretty Avila Beach via bike path.  Enjoy an afternoon ice cream, and head on down through the 5-Cities area where you will traverse four of them (Shell, Pismo and Grover Beaches, and Arroyo Grande).  Head out to Orcutt Rd and return to SLO to end your ride.  Bag your first 200k of the year.
please use Google Group SLORando for general questions or email SLO RBA