ready to register
This perm travels between South San Luis Obispo and the Santa Barbara Amtrak Station.  There are cue sheets and cards available for both directions.  Note that the prevailing wind is from the northwest, making it much easier to ride north to south.  It's easy to catch the late afternoon Amtrak train back to SLO after the ride.  Get reservations for yourself and your bike.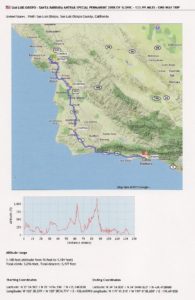 AMTRAK Surfliner train info
SOUTHBOUND cueheet:  N-S 1208 ELAPSED START SLO-Santa Barbara Amtrak Special Rev 2
NORTHBOUND cuesheet:  S-N 1208 SOUTH TO NORTH Santa Barbara-San Luis Obispo Amtrak Special 202k
GPS tracks:  Click on the map image to go to gpsies, where you can download this route in several formats.