Name:   Outlaw 400k  (ACP Brevet / Route #2062)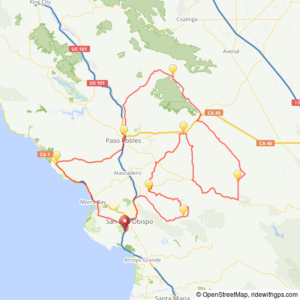 Note: this ride is not easy, 11,000+ feet of vertical;  actual length is 404km.

Ride Start: Saturday, Mar 18 at 0500
Ride End:  Sunday,  Mar 19 at 0800
Time Limit: 27 hours
Important Documents:  cuesheet-Outlaw 400k     link for Garmin files

Cost: $40.00 for RUSA members, +$5 for non-members
Registration:  closes Thursday night, Mar 16

Start Location:   Due to low registration, start will be at RBA's house. 
Finish Location:  To keep the route near 400km, the finish will be at mile 250.2, Los Osos Rd and Calle Joaquin,  Chevron Station.  Alternately, you may ride to the start and finish there, 2.8 miles further.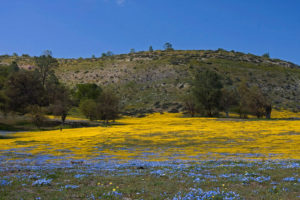 This was one difficult route to birth in this heavy storm season.  But what we ended with is a beauty – literally hundreds of miles of very lightly travelled open roads, mostly up in the north county where cattle ranches reign.  This is the year for fantastic wildflowers.   The route heads north out of SLO and immediately passes over Cuesta Grade, and then heads out to the Pozo Saloon, about all that is left of a once thriving western town.  This was one of Jesse James' haunts.  Then, head along the rollers of winding Park Hill Road to lonely Highway 58, and immediately up 229 through Creston.  You won't see many cars on 229, and after getting over the crest, its a fun ride down into Creston.  After a quick stop there for provisions, head up Hwy 41 to Shandon for an authentic hole-in-the-wall Mexican lunch.
Head down bumpy Shell Creek Road for the best flower displays in the county, and further out lonely Hwy 58.  Finally, you will reach

Bitterwater Road, and meet a volunteer with second lunch.  Good thing, because now you will follow the San Andreas Fault all the way to Parkfield with almost zero traffic, except for a very short ride along Hwy 41.  Parkfield is the self-proclaimed Earthquake Capital of the World.  Have dinner at the Parkfield Cafe, then cross empty Vineyard Canyon road for a while toward San Miguel and Paso Robles.  Finally, over Hwy 46 and cruise downhill for 7 miles to Hwy 1, and return to SLO for 251.5 miles.  Late dinner (early breakfast??) will await your arrival.
Lodging: 
The Rose Garden Inn is a great place to stay.   The rooms are large enough that you won't have to climb over your bike, and beds very comfortable in this older hotel.  Motel 6 South is next door, as is Margie's Diner. Motel 6 North is across the street.  There are many pricier alternatives.
please use Google Group SLORando for general questions or email SLO RBA