Name: Wine Country 300k  (ACP Brevet / Route #1201)
Ride Start: Saturday, Apr 23 at 0600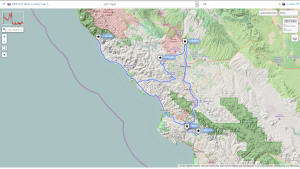 Ride End:  Sunday, Apr 24 at 0200
Time Limit: 27 hours
Worker Ride: TBD
Important Documents:   gpsies_map;
300kWine Country-CuesheetR1
Cost: $30.00
Registration:    closes Thursday, April 21

Start Location:   The official start and end hotel for the 300/400 brevets on April 23/24 is the Rose Garden Inn in San Luis Obispo.  The Rose Garden Inn is located immediately across the street from the Motel 6 South, on the west side of Hwy 101.  It is about 1/4 mile from the Motel 6 North that we have used in previous years.  The Rose Garden Inn will let us use their lobby for the crockpot dinner, start and finish.  They are next door to Margie's Diner, but Margies doesn't open until 6:30am, so no pre-ride breakfast there.
Room rates are $149 single and $169 double, but they have offered us a 10% discount on these rates.   To get the discount, call the hotel directly, at 805-544-5300.  Let them know you are with SLO  Randonneurs.  The other nearby hotels are Marriott Courtyard and Hampton Inn, both are far more.  There are also two Motel 6's: North and South.  The Rose Garden is older and a little worn, but clean and quiet.
Description:   The San Luis Obispo Wine Country 300K begins and ends  in San Luis Obispo.  This ride shares most of the first 300k with the Wine & Waves 400K, and the riders will begin together.  You must decide which route you will ride before the ride (Apr 23).  RUSA rules forbid changing routes once you are committed.
The route crosses SLO and climbs over Cuesta Grade on the Hwy 101 shoulder, climbing 1200 feet in about 3 miles.  Exit after the downhill on the other side for a pleasant ride up El Camino Real through Santa Margarita and Atascadero, before going out to rural Templeton Rd, passing horse ranches and wineries. Pass through Templeton and Paso Robles on the way to the first control in San Miguel, a good place for early lunch. Then, head over to Paso Robles west side, where the Far Out wineries are located up in hill country. Beautiful, rolling hills for about 25 miles  finally lead out to Hwy 46, where you climb over the coast range to Cambria. Then a quick but windy trip up to Ragged Point for the ocean view part of the ride.  Return thru Morro Bay State Park  and back to San Luis Obispo via  Los Osos Valley Rd.  Finish with a loop around town to get you to 300k,  and end with hot food at the finish hotel.
You may want to find someone to share a room at the start hotel and get some sleep before your drive home.  Reservations are recommended in this tourist town, you can usually cancel.   It's a beautiful ride, with a reported 9,600 vertical feet, mostly in the first 100 miles. Garmin files can be downloaded from the map link.
please use Google Group SLORando for general questions or email SLO RBA