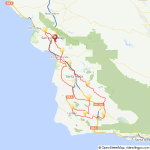 Name: San Luis Obispo 300k  (ACP Brevet / Route #905)
Click to Register     Registered Riders

190 miles  (306km);  7939 vertical feet (RWGPS)
Ride Start:  SUNDAY, February 19 at 0600
Ride End:  Feb 20 at 0200
Time Limit: 20 hours
Worker Ride:  chk w/ RBA
Important Documents:    map;   DRAFT  cuesheet-pdf   cuesheet-doc
Cost: $30.00 for RUSA members,   +$5 for non-members
Registration:  Registration closes Thursday  Feb 16
Start Location:  French Park, SLO
Description:  Popular brevet route, was featured in RUSA's American Randonneur in June 2014.  See lots of salad fields, ranches and vineyards.  A good mix of great cycling roads and area connectors.  Starts in San Luis Obispo, makes a short loop north and through Cuesta College first, then heads south to Guadalupe, to Lompoc via bumpy Drum Canyon, then along picturesque, lightly traveled Santa Rosa Rd to Buellton.  After passing through Solvang, head up Alamo Pintado and Foxen Canyon Rd to the outskirts of Santa Maria.  Take the Santa Maria River cycling bridge on the way back to Nipomo, and then return to SLO.
In 2017, the Down to the River Populaire will be run together with the 300k; these rides share some of the route.
please use Google Group SLORando for general questions or email SLO RBA